Your Ultimate AI Shopping Assistant is Here.
24/7  Automated Assistance: Never miss a sale with round-the-clock support.
Streamlined Experience: Get answers directly from the product page, no more searching.
Reduce Cart Abandonment: Engage with customers in real-time and increase conversions.
Engaging & Personalized Content: Cutting-edge GPT4 technology tailors answers from your store to each unique customer.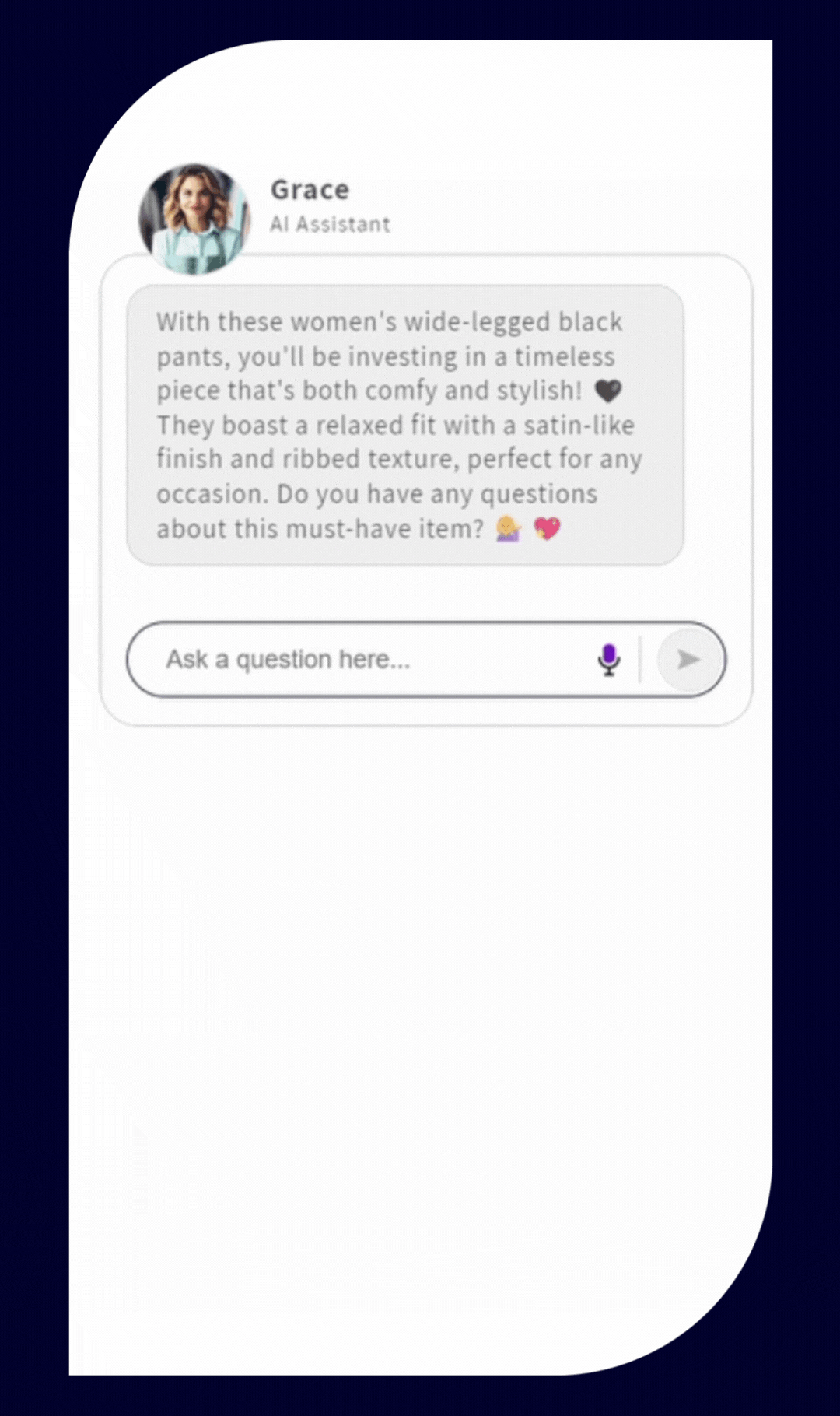 Transform how you engage with your customers.
Want to see Conversagent in action? Give it a go on our demo store.
Or watch the video below. 
Pricing Plans
30-day free trial. No lock-in contract.
FREE
20 conversations/month

GPT-powered chatbot
STARTER
21-DAY FREE TRIAL
100 conversations/month

All features listed in FREE

Unlimited page ingestion

Customer insights & reporting

Chatbot configuration options
500 conversations/month

All features listed in STARTER
5000 conversations/month

All features listed in STARTER
ENTERPRISE
For larger requirements, please contact us.
How does the Conversagent app work?
Conversagent uses cutting-edge AI such as OpenAI's GPT4 to generate personalized friendly answers to customer queries. When you sync your store content, Conversagent will create a library of your store products and information that it will search through for information that answers the customer question at hand. Conversagent will only answer questions it can confidently answer with the content of your store, limiting the risk of 'hallucinations'.
Do you process personal data about my customers?
No, Conversagent does not process any personal data associated with your store visitors/customers.
Clevertar's privacy policy can be found here.
Does Conversagent use ChatGPT or GPT4?
Conversagent uses GPT4, the latest technology from OpenAI, to provide the best possible customer experience. 
What do 'conversations' mean in your pricing plan?
'Conversations' refers to every time a customer interacts with the chatbot on different pages. So if a customer asks 4 questions on the same product page then it still counts as one conversation. If a customer however asks a question on one product page and then navigates to another page & asks another question on a different page then that would be two conversations. This pricing strategy has the merchant's interests at heart rather than basing prices on each message sent.
What happens to the chatbot if I use all of my 'conversations' up? When does it reset?
As per your specific plan, you will be given a quota allowing for certain amount of 'conversations' per month. You can view how much of your quota has been used & when your quota resets in the Conversagent dashboard on the right-hand side. This is highlighted in different colours according to how close you are to reaching your quota. Email communication will be sent out as you get closer to that quota number.
If you have reached your quota, the Conversagent chat interface will be automatically disabled and will no longer be visible to your customers. In the theme editor you will also see an error message saying your quota has been reached and the chat interface is disabled. Conversagent will be disabled until your quota resets for the month OR you upgrade your plan.
To upgrade your plan, either select 'increase quota' from the Conversagent dashboard located by your current quota allowance OR select 'plans' from the top menu of the dashboard and select your desired plan upgrade.
How do I update content in the chatbot?
If you have made changes to your store content such as but not limited to adding/removing products, changing product descriptions, adding new blogs, promotions, etc. you will need to resync the app with your store for your Conversagent to surface up to date information. To do this, open the Conversagent dashboard and select the green 'Resync Content' button in the top right-hand corner. This will train your Conversagent on store updates.
At this stage, Conversagent does not automatically sync store content & must be manually resynced to update it's knowledge-base however auto-sync is coming soon.
What should I include on my store to ensure best performance of the app?
To ensure best performance of Conversagent, we recommend you have sufficient content across your store that answers any questions a customer might have about your store, it's policies or it's products. This might be in the form of FAQs, return/shipping policy documents, product descriptions and information, brand identity information in About Us pages, blog posts, etc. This may be informed by common questions you may receive via live chat or support emails/calls.
We recommend you keep this information up to date by removing out of date posts/content and resyncing your Conversagent to your store content as soon as an update is made.
You may also like to add a meta store description to the backend of your store to help your Conversagent further understand your store. To do this select 'Online Store' in the left hand menu panel, then select 'Preferences' and enter your store 'Title and meta description' in the top text boxes.
Do I need to be able to code to set Conversagent up?
No, Conversagent requires no code. It's a total plug and play Shopify app with a simple setup which means you could have a Conversagent on your website in minutes!
How do I install the Conversagent app?
Once you have installed the Conversagent app from the Shopify app store and synced your store content, the next steps involve using the theme editor to add the Conversagent chat interface block to the desired pages on your store. For step by step instructions, please see the Installation Guide.
I have a Shopify 1.0 theme, will this app still work?
If you are using a Shopify 1.0 theme, you will need to add the chat interface via the App Embeds section. This version of Conversagent is displayed as the floating chat interface and will appear on every page using the theme the app has been enabled for.
I don't have a Shopify store, can I still use this app?
Conversagent is built exclusively for Shopify merchants at this stage, however our 'Enterprise' solution may be suitable for other uses.
Don't hesistate to get in touch with our team to discuss your needs.
Join the Conversagent Inner Circle & get 3 months free access.
Join our 'Inner Circle' program for 3 months free access to the Conversagent GROW plan.
Get a GPT4-powered chatbot with 500 conversations/month completely free of charge for 3 months in exchange for your feedback on how we can better your experience with Conversagent. Don't miss out on this limited time offer & sign-up below!