Every five years, the Australian Bureau of Statistics (ABS) conducts the Census.
The Census provides a snapshot of who we are and tells the story of how we are changing as a nation. It's used to inform many things, from planning schools, healthcare and roads, to local services for individuals, families and communities.
Introducing Claire
Claire, the Census chatbot has been designed to help people with queries about the 2021 Census. Working closely with the ABS, Clevertar developed an avatar that will:
increase trust through the design of facial features that are appealing, trustworthy and non-threatening

ensure people understand that they are not talking to a human, but still providing a trustworthy Census voice. 
Chatbots are often used in addition to FAQs on websites because their conversational style helps people to find the answers they're looking for.  
Claire makes getting the answers simple by offering a menu of questions and then guiding users to the answers they seek. Claire doesn't judge the questions people ask.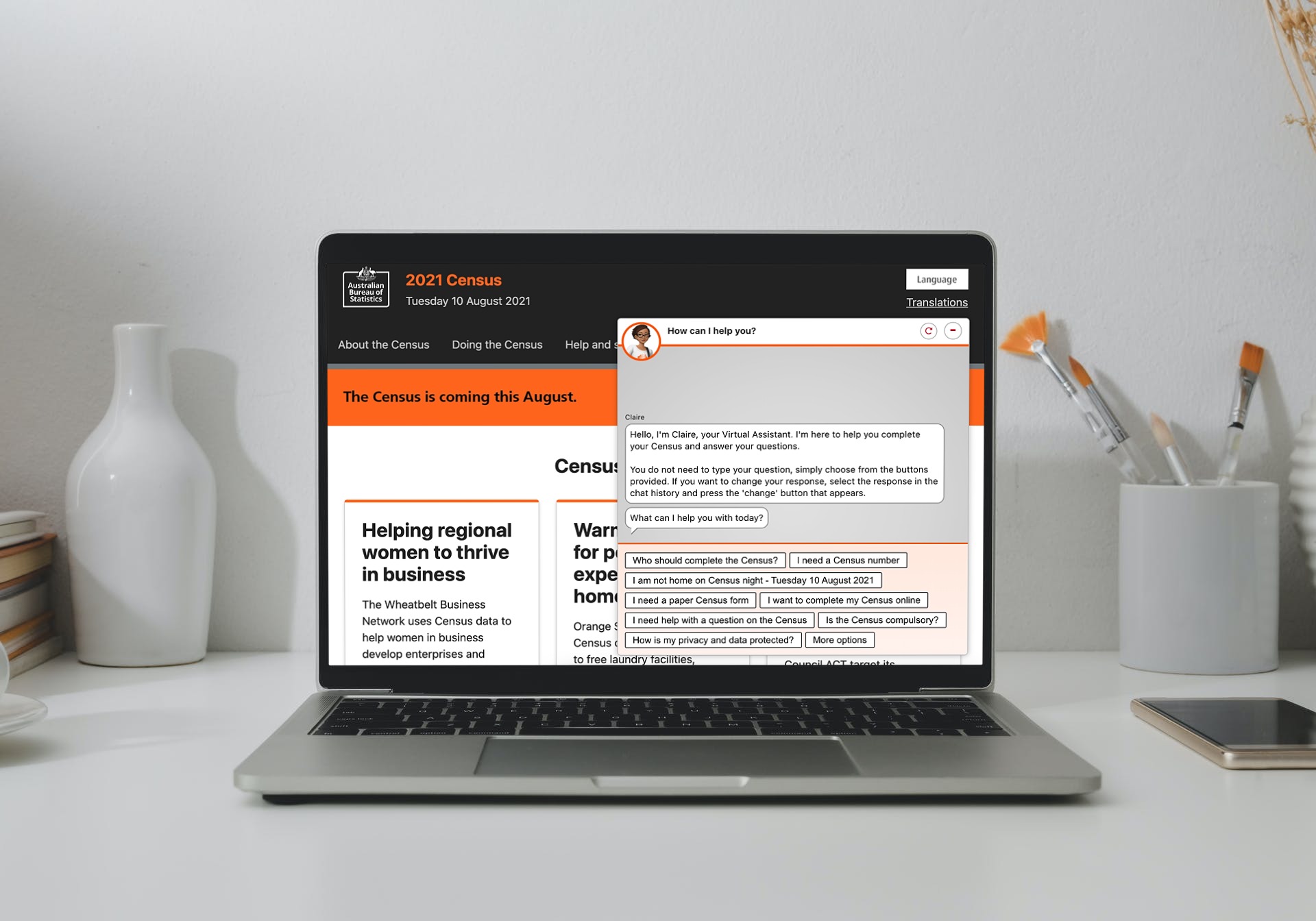 Matt Francis speaking about the content creation process
Martin Luerssen speaking about the technical build process
Challenge
A key focus for the 2021 Census was:
to increase the variety of support options available to the public
make it easier for people to complete the Census online or on paper
Approach
ABS has introduced self-service features like Claire to ensure people have timely and relevant responses to their Census queries.
People do not need to provide any personal information to use Claire. They simply select from a menu of choices.
People cannot provide personal information to Claire. The chatbot is a safe and secure platform as part of the 2021 Census.
Claire's knowledge base was created after reviewing the main questions asked by the public during the 2016 Census. This information has been updated with new information about the 2021 Census.
Claire will gather data about the type of questions that people are asking. This will be used to increase her ability to respond to frequently asked queries.
Solution
Claire was launched on the Census website in April 2021 and represents an additional service channel to support the Australian public. Tap Claire's icon in the bottom right corner, where it says, 'Need Help'.
Claire can help with a range of questions about the Census anything from who needs to complete the Census, to how to fill in the Census form—online or on paper.
In the beginning, Claire answered general questions and as we get closer to the Census her knowledge has expanded to include more detailed information. For example, how to answer each question on the Census form, and what to do if you are having difficulties accessing the online form.
Claire is helping the ABS keep their customers in their channel of choice—if they are on the website looking for assistance, Claire can help them find information and online self-service options easily 24 hours a day, 7 days a week.