Chances are, you've already met Grace, Charli, and Zoe. You've probably met some of their friends, too. They like to hang out on websites of some of Australia's most prominent organisations.
Of course, if you haven't met Grace, Charli, and the rest, it's only a matter of time.
That's because chatbot adoption is surging throughout the world. That more Australian brands are turning to chatbots is just the tip of the iceberg.
Gartner predicts chatbots will become the lead customer service channel for a quarter of the world's companies by 2027. It's where the market is going, and it's a part of the customer journey that people have come to expect.
Here are seven chatbots helping organisations all around Australia to provide better customer service, reduce repetitive work, seal deals, and more.
Grace from MATE
Telco MATE call themselves 'a happiness business that happens to sell telco products.' Nice, right? We take this to mean MATE takes their customer satisfaction seriously (and bravo). Their customer service chatbot, Grace, is a testament to this commitment.
Grace is a tech savvy sales and customer support chatbot that lives on MATE's website. She can help you find the correct service, set up your modem and router, or assist you with admin enquiries. In the rare case she cannot sort you out, Grace is more than happy to hand you over to one of her human support colleagues through live chat.
Behind her beaming smile and positive attitude, Grace boasts some serious capabilities. Last year alone, she had more than 425,000 conversations and talked for more than 159,583 minutes.
That's like a human customer service rep working around the clock—for three and half months straight.
Behind her beaming smile and positive attitude, Grace boasts some serious capabilities. Last year alone, she had more than 425,000 conversations and talked for more than 159,583 minutes.
Charli from WineDirect
Looking for your next bottle of tempranillo? Whatever you're looking to sip from WineDirect, Charli can help you find it. She's the wine connoisseur of the chatbot team, there to help web visitors find the perfect bottle of wine for a dinner, as a gift, or when they just want to stay in and enjoy a glass.
No worries if you cannot distinguish a pinot noir from a shiraz—Charli loves to help. By quizzing you on your personal preferences, she can help determine which wine would suit your palate best. On top of that, Charli can also assist with customer service-related questions such as delivery times or payment methods.
Isn't she a star? You might say that, considering Charli had 9,100 conversations last year and talked for 6,000 minutes. Who knows how many wine enthusiasts she helped inspire?
Zoe from SA Health
Some chatbots help people buy wine, others help them stay healthy.
That's the idea behind Zoe. As the first virtual employee of SA Health, Zoe has attained superstar status in a very short time.
When the COVID-19 pandemic began, we worked with the SA Health team to build and launch Zoe up in just six days. From there, it was straight into the fray, with Zoe helping SA Health's customer service team deal with a massive surge in enquiries.
In the last year alone, Zoe fielded more than a million conversations and spent more than 450,000 minutes in conversation. It's no surprise her name is derived from a Greek word meaning 'life'—Zoe has helped countless Australians get the health information they need.
Jamie from Lifeblood
Zoe is not the only chatbot doing good things in the healthcare space. Jamie of Lifeblood helps people that wish to donate blood, plasma, or platelets determine their eligibility. She has been with Lifeblood since the pandemic began to help answer all COVID-19 related questions.
Apart from being an eligibility expert, Jamie can also assist with bookings, pass people along to her human colleagues in support, or provide more info about donating blood.
Like Zoe, Jamie was instrumental in helping the contact centre deal with a flood of COVID-related enquiries.
Her stats don't lie: Jamie did 11,309 conversations last year and talked for 5,523 minutes.
Like Zoe, Jamie was instrumental in helping the contact centre deal with a flood of COVID-related enquiries.
Andie from the Department of Education
As Andie from the South Australia Department of Education shows, chatbots are definitely not too cool for school. On the contrary, Andie helps the more than 800 public schools and preschools in South Australia navigate the SA Department of Education's website.
The SA Department of Education implemented Andie to help teachers that are looking for a new job opportunity. She can tell you all about the requirements for teaching jobs and refer you to vacancies and useful links. Or when you wish to become a teacher, Andie can show you exactly where to start.
Thankfully, it looks like lots of South Australians want to be educators. Last year, Andie spoke for 17,927 minutes. Somebody give Zoe a gold star. Best Teacher's Helper Ever.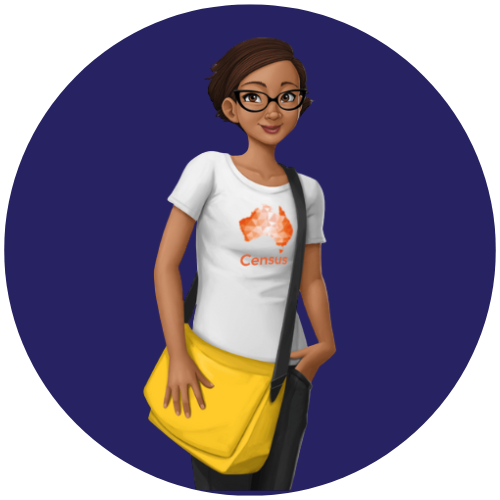 Claire from the Australian Bureau of Statistics
The Australian Census is kind of a big deal. So big, in fact, the Australian Bureau of Statistics website experienced some challenges during Census 2016. In anticipation of the 2021 census, ABS worked with Clevertar to create Claire, a task-specific chatbot.
Claire's task was vital: to make it easier for people to complete the Census online or on paper. She was specifically trained not only to speak conversationally, but to handle a huge spike in enquiries.
Not surprisingly, Claire was a huge success, as was the 2021 census.
In fact, the project and our work on it got some nice coverage in The Australian.
Tara from Clevertar
Last but not least is our very own chatbot, Tara. As Clevertar's hostess and sales expert, Tara serves customers on our website around the clock.
After all, if a chatbot company doesn't offer our website visitors and clients a chatbot (at a time when consumers have come to expect them), there's something going wrong.
Tara primarily helps web visitors navigate through Clevertar's site, while offering and answering questions about chatbots and AI.
She was born out of the desire to have a user-friendly, accessible way for website visitors and prospects to interact with a Clevertar chatbot. She can even qualify leads before handing them off to her colleagues in sales.
How cool is that?
It's never too soon or too late to explore the world of artificial intelligence!
We're keen to discuss how your business' everyday problems could be solved with AI, and how they might positively impact your customers.
Please leave a message and we'll get back to you soon.