It's been an exciting, eventful and productive year for team Clevertar with record-breaking results, new features and improvements, awards, and a whole lot of fun along the way.
Here's a snapshot of some of the things that have been happening behind the scenes.
Total chatbot conversations – 1.1 million conversations
Our chatbots enrolled more than 1.1 million people in the 21-22 financial year, which is a huge increase from last year. This means our chatbots spoke to 1.1 million people through our conversational AI platform, providing them with information, support and guidance.
Total chatbot user responses – 3.1 million responses
Think that's impressive? Our chatbots also had 3.1 million user interactions this past year. That's a lot of conversations! It means that users not only enrolled in conversations with our client's chatbots, but they also stuck around to chat and came back for subsequent conversations.
Total minutes engaging with customers – 1.3 million minutes
Our chatbots spent 1.3 million minutes engaging with customers this year. This is the equivalent of 2 years and four months! If you think about it, that's a lot of repetitive human conversations that our chatbots have replaced, allowing your team to focus on other things.
What's even more impressive is that these numbers are only going to grow. As chatbots become more and more intelligent, they will be handling an ever-increasing amount of customer interactions, leaving humans free to do other things.

Named among the Top 25 Fast Movers in SA
We were also thrilled to be named among the Top 25 Fast Movers in South Australia. This puts us in good company among South Australia's fastest growing, most innovative and smartest enterprises and is a huge achievement and testament to all the hard work that our team has put in over the past year.
Received the iAwards Winner SA/NT – Technology Solution Platform Award
We were also named the iAwards Winner SA/NT – Technology Solution Platform Award winner for our work with the Australian Bureau of Statistics building the chatbot that supported the Census. You can read about Claire here. This award is a huge achievement and we are extremely honoured to have been recognised in this way.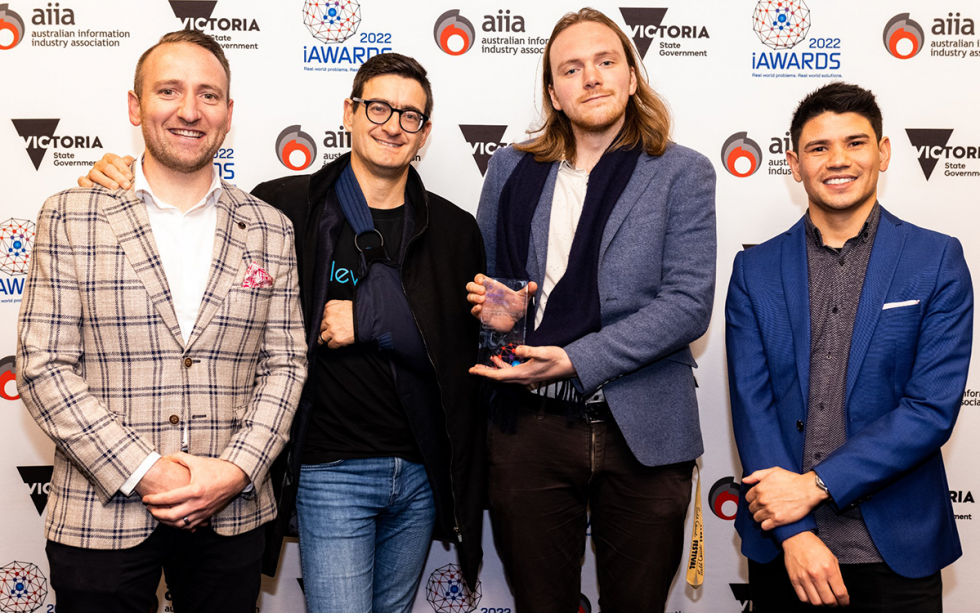 Launched Live Chat
We consider our conversational AI to be our cornerstone offering. Grace, Zoe, Claire and the rest of our AI-friends rock! Still, some of our customers want to embrace AI, without completely automating their customer service. Live chat helps to bridge that gap, offering these customers a few handy features including AI to human handoff, convenience with a human touch, and off-hours support.
New features and improvements
We've been hard at work this year making improvements to our platform and adding new features. Here are some of the highlights:
Improved performance and stability

New data analytics dashboard

Enhanced user interface
Partnered with SMAART to release the Contact Centre Best Practice Report
We partnered with SMAART Recruitment to release the 2022 Contact Centre Best Practice Report. It showed the appetite for powering contact centres with AI is there. Most category leaders at least have plans to implement AI in the contact centre, if they haven't done so already. And there's no question that the technology is there to support these efforts, specifically chatbots and tools for conversational intelligence.
Missed it? Here's a summary of the key findings:
AI can unlock the potential within a contact centre
The future of AI in the contact centre is bright
AI isn't replacing agents at scale
The Clevertar team continued to grow
We grew to 14 people and we're excited to continue growing in 2022-2023. We're always on the lookout for top talent, so if you think you've got what it takes, get in touch!
What's next for Clevertar?
As we reflect on the 21-22 financial year, there's no doubt it's been a big year for Clevertar and we're looking forward to an even bigger 22-23.
This is just the beginning – we're building the next generation of conversational AI that will enable organisations to have two-way conversations with their customers, providing them with a better experience and driving real business results.
Interested in chatbot and live chat technology? Click here to read how we helped smart organisations like the Australian Bureau of Statistics, MATE, the Department of Education and the Department of Health in South Australia scale their customer and client support with conversational AI – allowing their teams to work on more complex work.
It's never too soon or too late to explore the world of artificial intelligence!
We're keen to discuss how your business' everyday problems could be solved with AI, and how they might positively impact your customers.
Please leave a message and we'll get back to you soon.