Signed up for unlimited nbn or a postpaid mobile plan from MATE before? You've probably met Grace.
Grace is the chatbot over at letsbemates.com.au and she's been answering MATE customer questions and supporting them for more than two years now.
Grace has been pretty successful for MATE, highlighted by the following stats:
179K users since launch
A customer satisfaction rating above 70%
Has helped thousands of MATE customers raise support requests, get questions answered and obtain nbn and mobile product advice
Has grown her knowledge base from providing technical support assistance to a all-rounder capable of helping new and existing customers get technical help and sales advice
In this article, we'll be reviewing how MATE supports its mates (aka its customers) and drives growth with Grace's help.
Let's do this…
Start with why
But first, some background on this project. Let's start with why the team at MATE worked with us to create Grace in the first place.
MATE is a 100% Australian-owned and operated internet and mobile service provider. MATE's mission statement is that they are the everyday people (just like you), providing products and services consumers need, delivered with the value and service they deserve. But everyday people also need a break and the challenge with providing 100% Australian based support is the hours and staff required to do so. There are obviously trade-offs MATE have to make in order to keep this the case and one of them is limiting support hours and not running 24/7 like bigger providers with overseas-based call centres.
MATE looked for a chatbot to solve the issue for customers outside of its operating hours. How could MATE continue to assist with customer enquiries for both support and new sales, when physical agents operating their live chat service weren't available? MATE ultimately explored the option of a chatbot to see if it could solve this issue – they were looking to provide basic help and support outside business hours.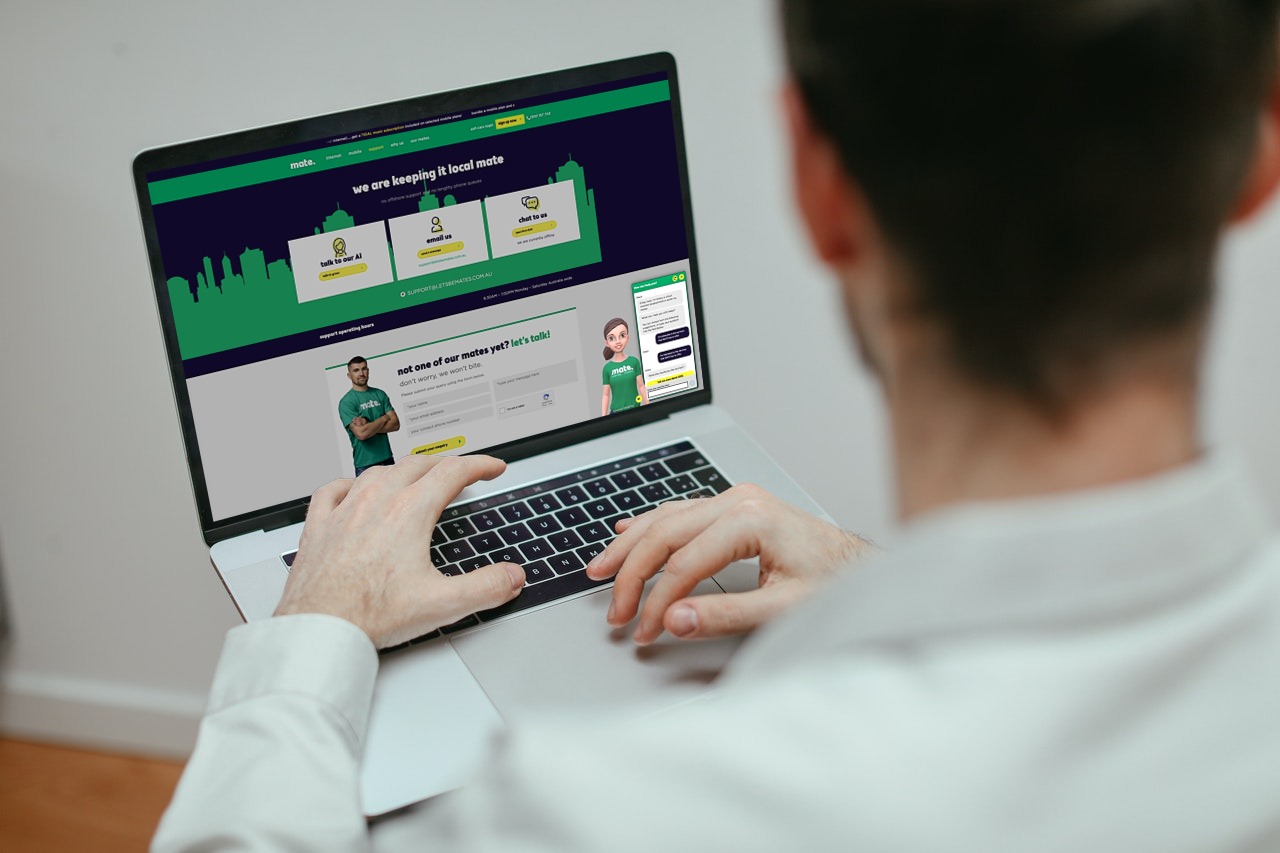 Launched as a minimum viable bot
Like all our chatbots, Grace started out as what we call a 'minimum viable bot'. We're big believers in the agile approach to chatbot building—we prefer launching a minimum viable bot (covering the basics) instead of waiting on a Titanic-style chatbot (aka a big beautiful ship that still might sink).
What can you tell us about the results/interactions in the first three months?
Grace started out as a support only chatbot with MATE and was ultimately deployed to replace live web chat agents after-hours. While still comprehensive in overall knowledge base size, she has grown significantly since then. In a reflection of MATE's growing customer base, Grace has more than doubled her knowledge base from the time she was launched until now and handles more than double the number of customer enquiries now than she did only two years ago.
Always looking to improve
After two years in the wild, Grace was due for an upgrade so we released a new character – enter a brand new 3D model for Grace. The chatbot infrastructure was given an upgrade in terms of its look and feel along with the targeted call to actions (that trigger specific conversation starting points). However, the most important and major change is the way users interact with the content. We changed the model from the initial 'ask a question' concept to an AI-powered conversation flow. By introducing what we call Natural Language Understanding or "NLU", the interaction between Grace and MATE's customers became a lot more dynamic.  It was a big shift from what it was initially to what it is now, that was driven largely by the interaction data we had collected. We have since seen a further increase in satisfaction rates and improved their already healthy engagement statistics.
Working the night shift
As you can imagine for an internet and mobile provider without 24/7 live agent support, it was really important to leverage their significant after hours website traffic. This made striking a balance between providing real agent support and a virtual option crucial to optimising the end to end customer experience.
Our solution bridged the gap from live support to self service, enabling product help and technical support queries to be answered when MATE's mates need it.
On busy days, Grace averages upwards of 1000 interactions per day – this often equates to over 800 minutes of talking!
Customer satisfaction a key KPI
In addition to customer support, Grace is also a sales converter for MATE. She provides webchat handoffs to MATE's live chat team during business hours if they require further information, she can also hand customers over to the sales form with preselected plans based on the customers enquiry. In fact, Grace provides hundreds of conversions for MATE each month!
New and improved Grace
Since Grace has gone from prompting with FAQs to being more AI-powered with Natural Language Understanding (NLU), both interactions and average session minutes have increased, while bounced users have decreased. Grace's AI is constantly learning and refining her bank of information. Combining her AI with our human team's insights has resulted in the ideal hybrid solution for optimising her knowledge base and staying updated as things change.
'We're part of the team' mentality
As their chatbot provider, Clevertar have worked closely with MATE to be just as agile as they are – growing as they grow, optimising and updating Grace as her metrics inform us. Some of the highlights of this partnership with MATE include:

A monthly WIP meeting to provide key statistics, feedback and recommendations
Regular roadmap check-ins
Scheduled optimisation and machine AI learning – adding popular customer utterances
Checking everything is performing – trying to add more value wherever possible
Collaboration via a team Slack channel for fast responses and task management
Open relationship built on mutual trust
Other key points from Ross Catanzariti, MATE's Head of Customer Engagement
"As a challenger brand, MATE needs to do more in order to win. We don't have the big budgets and the deep pockets as the bigger telcos in Australia, but what we do have is the ability to be extremely nimble and we are constantly striving to improve. We feel that Clevertar has provided us with a relatively low-cost solution that improves our customer support offerings.
We like to say that people don't always remember what you do, but they always remember how you made them feel. Working with the team at Clevertar to launch and then improve Grace has been a great experience and highly recommended if your business is considering a chatbot!"
Interested in an honest appraisal of whether you need a chatbot? Get in touch with our team below.
It's never too soon or too late to explore the world of artificial intelligence!
We're keen to discuss how your business' everyday problems could be solved with AI, and how they might positively impact your customers.
Please leave a message and we'll get back to you soon.